Cheesy Pizza Bites
Tear, share and get dipping with these incredible cheesy pizza bites by the legend that is @leopardcrust.
Spicy, garlicky and oozing with mozzarella - these are the perfect party piece to impress friends, or devour all by yourself, because why not?
Ingredients
low-moisture mozzarella

Tomato sauce

Grana padano

Bacon bits

Pickled jalapeño
Garlic & parsley butter

Butter or extra-virgin olive oil to coat the skillet
9-inch cast iron skillet

Skillet cover
Small bowl (About 4.5 inches in diameter)

Spatula

Pastry brush
Show more
Step 1:
Brush a cast iron skillet with butter or extra-virgin olive oil.
Step 2:
Divide each dough ball into 12 smaller pieces of dough. Roll the dough into balls, then toss to coat in semolina. Arrange dough balls to form a border on the perimeter of the skillet. Carefully place a small bowl in the centre of the dough circle to make room for the pizza dip later. Cover and allow dough to proof for 2-3 hours.
Step 3:
Preheat your Gozney Roccbox or Dome to 450°C. Remove the small bowl from the skillet and cover the centre evenly with ⅔ of the mozzarella. Layer on tomato sauce, then remaining mozzarella. Top with Grana Padano, jalapeños and bacon bits; or other toppings of your choice.
Step 4:
Transfer skillet to your Gozney Pizza Oven to bake at a low-flame for 30 seconds, until the edge near the flame starts to form blisters. Bring the skillet to the front of your oven and rotate it so that its handle points to the left. Bake for 30 seconds then rotate so that the handle of the skillet points to the right, then bake for 30 more seconds. Re-centre the handle of the skillet, then switch off the flame of the oven. Bake for 2 minutes to allow the bottom of the pizza bites to develop a crust.
Step 5:
Remove skillet from the oven and release the dough circle from the skillet using a spatula. Use the spatula to rotate the dough circle 180°. Place the skillet towards the front of your re-ignited oven to bake for 1 minute, until desired colour is achieved. oven. Bake for 2 minutes to allow the bottom of the pizza bites to develop a crust.
Step 6:
Glaze pizza bites generously with garlic & parsley butter and allow to cool for 3-4 minutes before tearing, dunking into the pizza dip and pulling the cheese. Enjoy!
Time to fire yo your Gozney pizza oven and get to work! Why don't you share your work with us, just use the #gozneykitchen!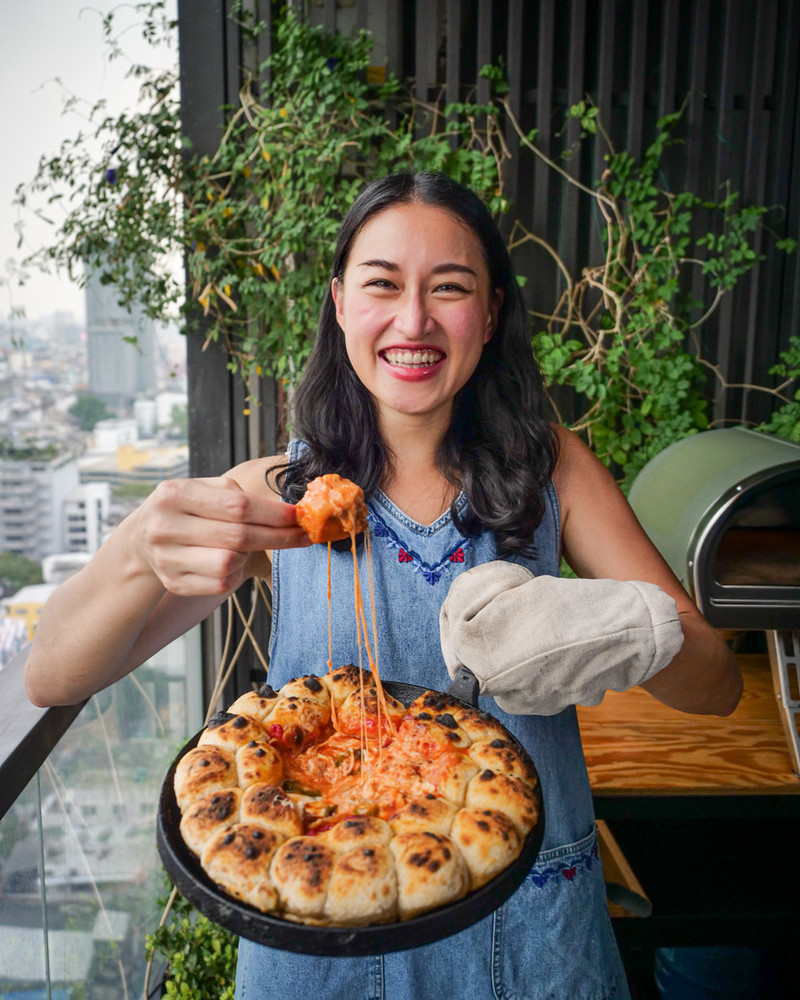 Recipe Contributor
Feng Chen
Feng Chen aka @leopardcrust is the queen of making the most imaginative pizzas, famous for their perfect leopard spotted crusts.