Sticky Toffee Pudding
Thought your Gozney Dome was just for pizza? Think again. How about trying this über indulgent sticky toffee pudding by Great British Bake Off winner @candicebrown.  
Ingredients
120g / 4.23oz unsalted butter
120g / 4.23oz light soft brown sugar

120ml double cream

200g / 7.05oz stoned dates

50g / 1.76oz chopped dried apricots
200ml boiling water

1 tsp bicarbonate soda

75g / 2.64oz soft unsalted butter

150g / 5.29oz light soft brown sugar

1 tbsp golden syrup
2 eggs

200g / 7.05oz self-raising flour

1 tsp ground cinnamon

1/2 tsp ground ginger

1/4 tsp ground nutmeg
30g / 1.05oz pecan nuts, chopped

50g / 1.76oz dates cut into matchsticks
Show more
Step 1:
Fire up your Gozney Dome to 275-310°C / 527-310°F. 
Step 2:
First make the sauce. Add the butter and sugar to a saucepan and cook over a medium heat until the butter has melted, and sugar dissolved. Keep bubbling away until the mixture starts to look frothy. Remove from the heat and whisk in the double cream until smooth.  
Step 3:
Put the 200g whole stoned dates and apricots in a bowl, pour over the boiling water and add the bicarbonate of soda. Leave to soak for 5–10 minutes until softened, then blitz the mixture in a food processor or blender until roughly smooth.  
Step 4:
Combine the butter, sugar and golden syrup in a large bowl and beat together until light and fluffy. Add the eggs one at a time, beating well, followed by the puréed dates and apricots. Mix through the flour, cinnamon, ginger, and nutmeg.  
Step 5:
Pour about 150g worth of caramel in the bottom of a non-stick pan (if possible) cast iron frying pan and spread out so the bottom is covered. Dollop in the sponge mix and spread out evenly- don't squish out the caramel. 
Step 6:
Place into your Dome entrance to the right and bake for 20-25 minutes- covering with foil when the sponge starts to brown too much. The caramel will bubble around the edges and the sponge will almost cook/boil in the caramel and rise and absorb all the delicious sauce. 
Step 7:
Carefully remove and allow to cool slightly in the pan. In a small pan or tray toast the roughly chopped pecans in the Gozney until brown. 
Step 8:
Allow to cool slightly, then turn the whole thing out on to a plate so the sauce is now on top and drizzling down the sides. Serve warm with vanilla ice cream and sprinkled with pecans.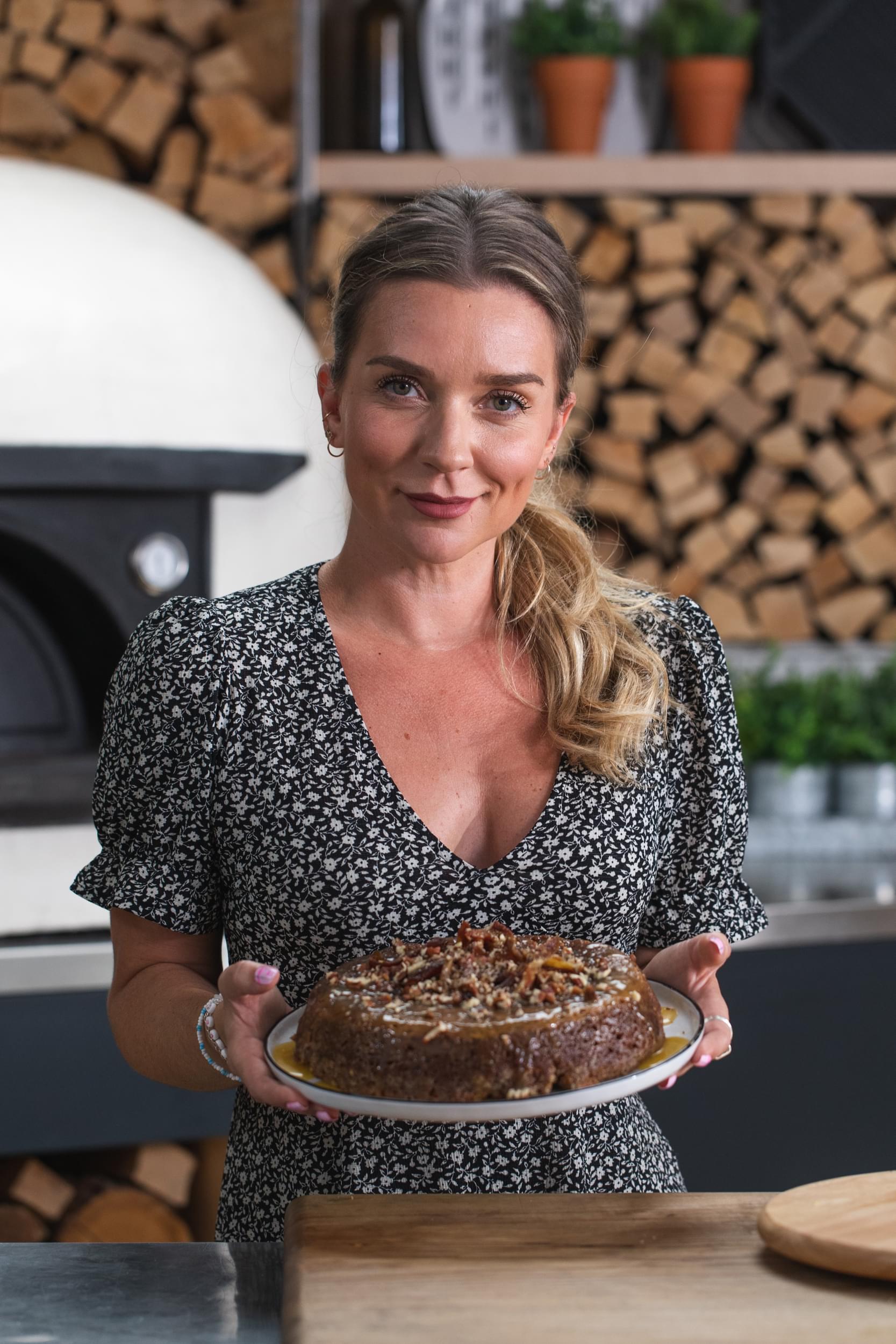 Recipe Contributor
Candice Brown
Candice Brown (@candicebrown) is a Great British Bake Off Winner, successful pub owner, author, mental health campaigner, and cook. Yep, she does it all. Candice describes cooking as a process she loves from start to finish, creating hearty, home-cooked recipes, especially in her new book 'Happy Cooking'.