Easy pizza sauce recipe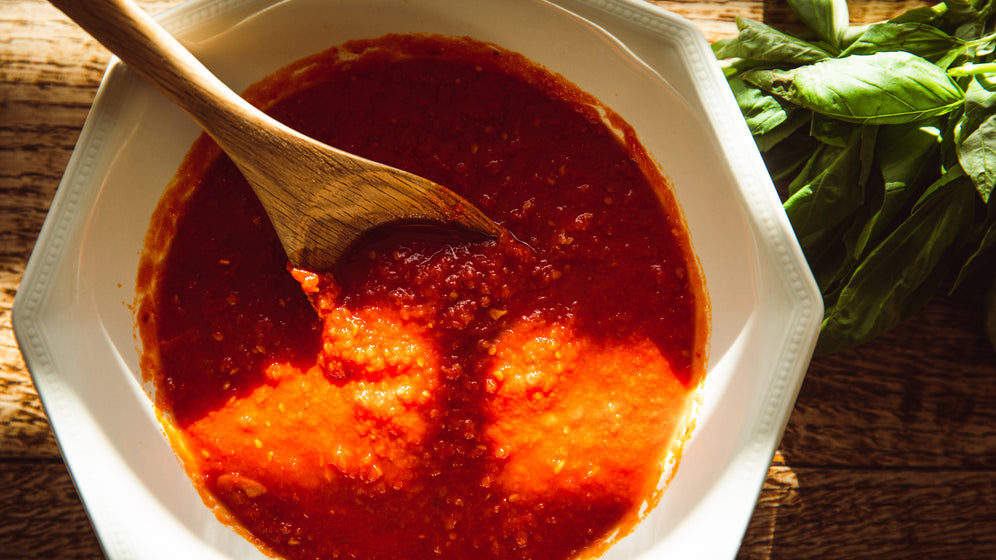 This easy Homemade Pizza Sauce Recipe is made in 15 minutes with only 5 ingredients.
Pizza Sauce Ingredients
100ml Olive oil
2 cloves (minced) garlic
2 tsp Oregano
1 Tsp Salt
800g San Marzano tomatoes
Create your pizza sauce by combining all the ingredients in a pan, and letting it simmer for 15 minutes.
Get Cooking
Here are some of our favourite recipes for you to try this simple yet delicious pizza sauce recipe.
Top it with our pizza sauce recipe, some Parmigiana Reggiano and/or fresh mozzarella, basil and olive oil, that's it.
The marinara is a perfect example of the joyous simplicity of Neapolitan pizza; no cheese, no frills, just really good flavours working super well together!
Pepperoni and jalapeños on pizza go together like spaghetti and meatballs – give this simple winning combo a try at home in your Gozney pizza oven with this simple pizza sauce recipe.
A Sicilian base, topped with the most delicious tomato sauce you ever did taste (the one you have just learned).
Other Pizza Sauces
This incredibly delicious spicy tomato sauce and vibrant basil oil maintain all the familiar flavours we all know and love- but the slight heat and distribution of toppings give it a pleasing twist that you should definitely try next time you're firing up Roccbox…
This delicious BBQ sauce is simple to make and you will only need 7 ingredients!
Fennel sausage and broccoli rabe (or friarelli) are a classic Italian pizza topping. Here, we've swapped out the sometimes hard to find bitter friarelli for some charred and marinated tenderstem broccoli for this Gozney twist on a Naples classic.
The iconic Cacio e pepe pizza by Gozney ambassador @danieleuditi. You'll be hooked on this delicious cheese and pepper recipe.
Vodka Sicilian pizza by @pizzawithperez. Fluffy and flavoursome, for any budding pizzaiolo.
We par bake the base of our regular Detroit dough recipe so we don't burn the cheese with this one and the vibrant green pesto brings the whole thing to life!
Taking a classic Italian pasta dish and adding a Detroit twist. This Carbonara Detroit style recipe from Luis Perez is going to take your pizza making to the next level.
Recipe Contributor