Chicken Pizza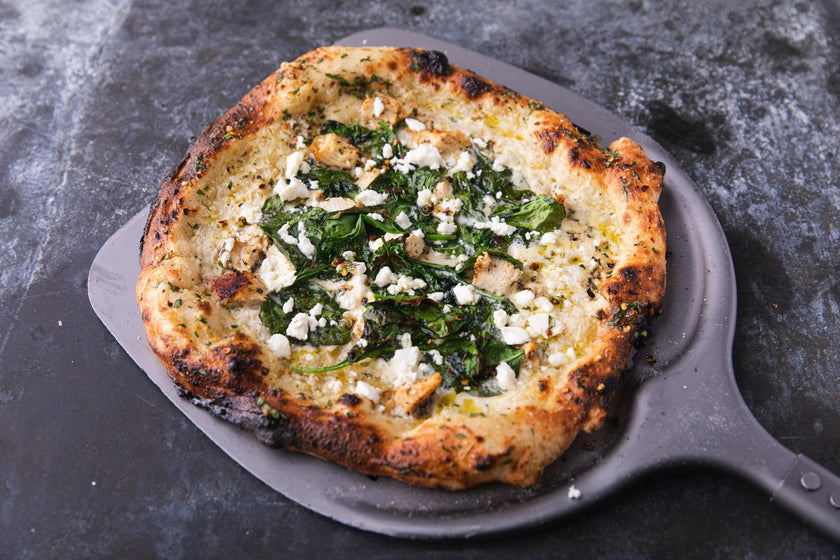 The 'Herbie Birdie' chicken and herb pizza by Gozney ambassador @jhysizzlepatty. It's a hit with the locals at her pop up (@devouredpopup) in Kansas City.
Ingredients
Creme Fraiche (¾ cups / 6oz / 170g)
Herb Roasted Chicken (1 chicken breast / 6oz / 174g)
Extra Virgin Olive Oil (2 tbsp / .5 oz / 14g)
Feta Cheese (½ cup / 4oz / 113g)
Butternut Squash Puree (2 cups / 16oz / 453g)
Spinach (1 cup / 8oz / 30g)
Red Wine Vinegar (4 tbsp / 2oz / 57g)
Chicken Stock (1 cup / 8oz / 226g)
Pecorino (2 tbsp / 1oz / 28g)
Grated Parmesan (2 tbsp / 1oz / 28g)
Show more
Step 1:
Preheat your Gozney pizza oven to 375°F/190°C. Heat a cast iron pan in the Roccbox. Whilst it's heating, season the chicken with salt, garlic powder, Italian seasoning and tarragon. Sauté the chicken breast for 4 minutes on one side. Flip and place the pan in the oven for 14 minutes. Remove and let it rest.
Step 2:
For the creme fraiche base, mince garlic and rosemary and combine with the extra virgin olive oil into the crème fraiche. Add salt and pepper to taste.
Step 3:
Create the butternut squash puree by seasoning then roasting the butternut squash until tender. Add the red wine vinegar and chicken stock when pureeing the squash. Add to a squeeze bottle.
Step 4:
Create the 'pimped' garlic oil, by mixing in minced garlic, chilli flakes and tarragon into extra virgin olive oil.
Step 5:
Chop up the cooled chicken and add lemon juice.
Step 6:
Stretch out a dough ball. Begin assembling, by spreading a thin layer of creme fraiche along the base of the pizza dough. Top with a layer of spinach.
Step 7:
Add the feta cheese and chicken.
Step 8:
Place pizza in the Roccbox and cook at 400°F/204°C.
Step 9:
After cooking fully. Garnish with butternut squash puree (pipe on with squeeze bottle), pecorino, parmesan and the garlic oil.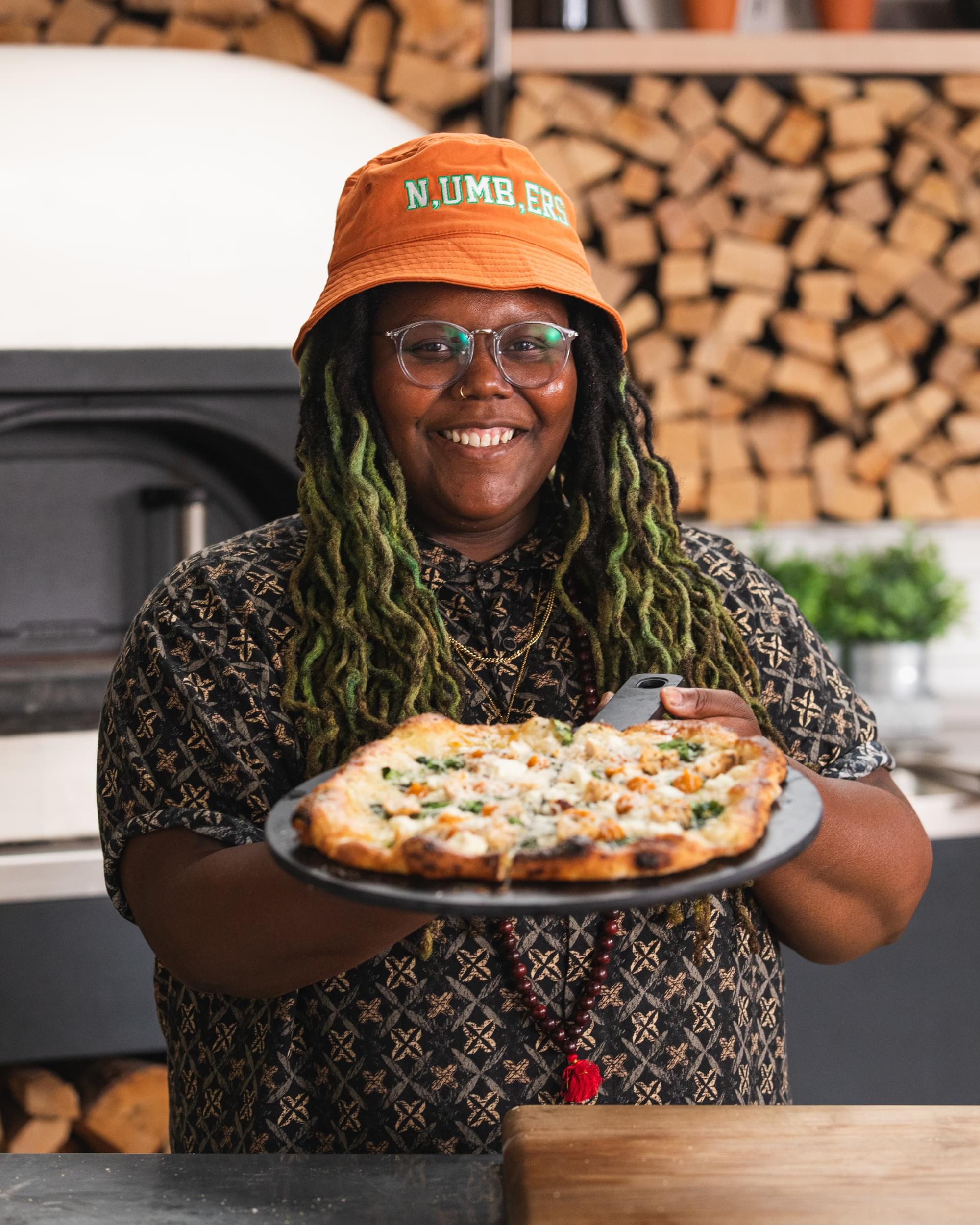 Recipe Contributor
Chef Jhy
Chef Jhy aka Jhy-Sizzle-Patty of Devoured Pizza in Kansas City, MO is inspired to create dishes that give your palette a nudge by using a combination of ingredients in ways that make trying something new fun and exciting.