Ultimate Roast Potatoes
The ultimate roast potatoes, cooked in Dome, by @chefthombateman. At Gozney, we believe no holiday plate is complete without a roast potato.  
[featuredProducts]
Ingredients
1kg/35 Oz Maris Piper potatoes
2 litres/ 68 Fl Oz. chicken stock

200g/7 Oz duck fat

6 garlic cloves

4 rosemary sprigs

4 thyme sprigs
Show more
Step 1:
 Peel the potatoes and cut into even chunks.
Step 2:
Add to the cold chicken stock, bring them to boil and cook for 11 minutes or until just fork tender. Strain but keep the stock to make a gravy with as it's now packed full of starch.  
Step 3:
Rough the potatoes up so they are frayed at the edges, place on a tray or rack and dry them out uncovered in a fridge.  
Step 4:
Add the duck fat, garlic and herbs to a pan with a generous pinch of salt. Bring this up to approx. 90°C/ 194°F and allow to infuse for at least 2 hours (this can be done the day before)  
Step 5:
Strain the infused fat removing the garlic and herbs, add this to a roasting tray and heat before adding the potatoes. Ensure the potatoes are completely covered in the fat before placing back into the dome at 250-260°C/482°F-500°F.  
Step 6:
Turn the potatoes every 5 minutes until they are golden and crispy this will take around 30 mins. Drain off the fat for the final 5 minutes to make them extra crispy.  
Step 7:
Serve with a sprinkle of sea salt.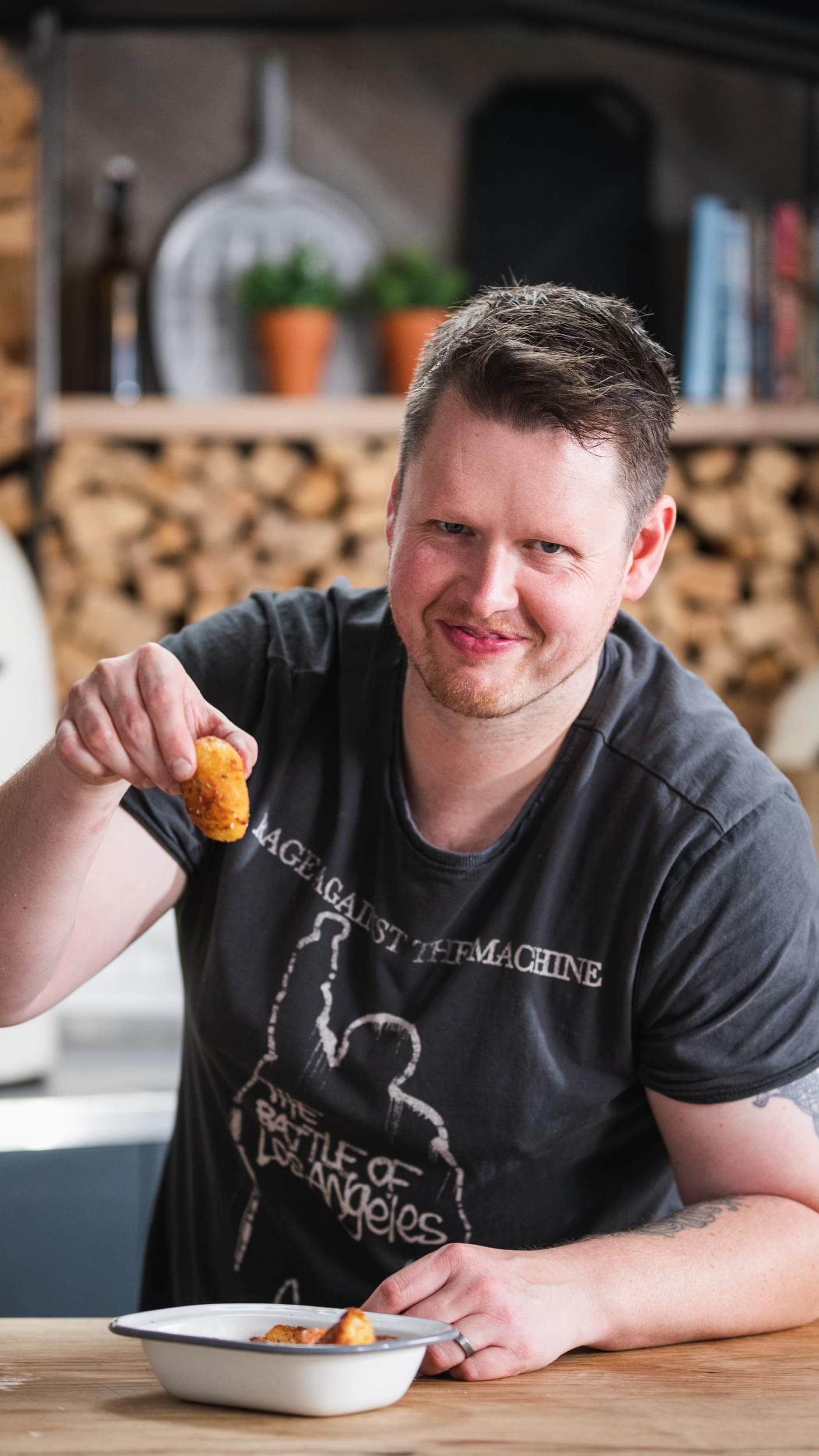 Recipe Contributor
Thomas Bateman
Thom Bateman is the Chef Patron of the Flintlock at Cheddleton in Staffordshire which was recently awarded 2 AA rosettes. He's also a big hit on TikTok, sharing recipe inspiration to a loyal following of over 1.2 million people.