Luke Marazzi aka @the.pizza.pilot has created the ultimate chocolate dessert pizza recipe which has everything you need to satisfy your sweet cravings - brownies, cookies, chocolate (of course) and salted caramel on a custard base topped with ice-cream to create an indulgent treat, you won't want to share this one.
Ultimate Chocolate Pizza Recipe | Gozney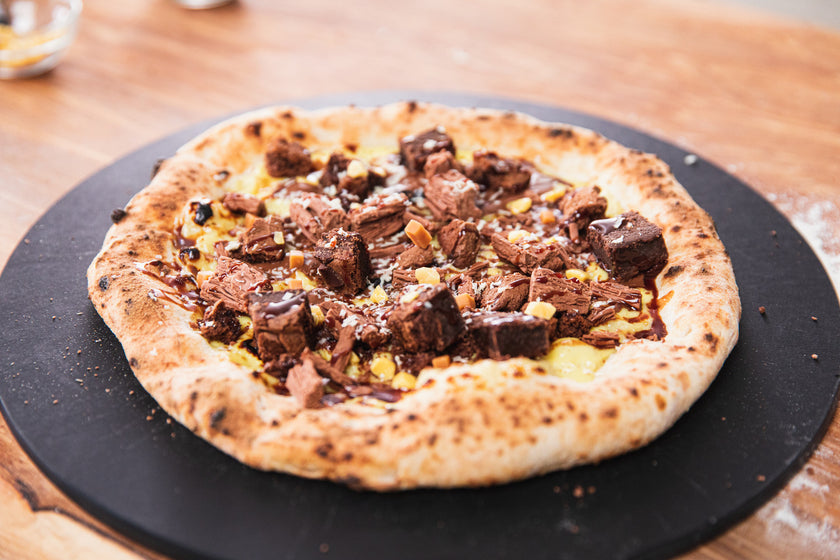 Method
1. Open up your pizza dough ball and spread the custard mix out as you would with a tomato sauce.
2. Bake in the Roccbox or Gozney Dome at 450°C until just cooked, rotating with your pizza peel to ensure an even bake on each side.
3. Remove from your pizza oven once cooked and drizzle some melted chocolate spread over the custard.
4. Scatter your chocolate brownie chunks and broken pieces of triple chocolate chip cookies over the pizza.
5. Crumble pieces of Cadburys Flake (or another flakey chocolate) and finish with a grating of white chocolate and a drizzle of chocolate sauce.
6. Serve with a scoop of vanilla ice cream and enjoy!
250g dough ball
100ml custard or crème anglaise
1 or 2 Cadbury flakes
Handful of diced brownie chunks
A couple of triple chocolate chip cookies
A bar of good quality white chocolate
Your favourite chocolate spread (Gu chocolate and salted caramel)
Chocolate sauce or salted caramel
Vanilla ice cream for serving