Steak and Lobster Panuozzo
After a long-awaited visit to Gozney HQ, the Welsh legend Chris Roberts (@flamebaster), has combined his love of land and sea to create a Steak and Lobster Panuozzo, fired up in Dome.
Using seaweed, fresh lobster, on the bone rib-eye steak, we can confirm this surf and turf sandwich tastes incredible.
Ingredients
1 x dough ball

100g beef fat (for flambedou)

Well-aged, thick ribeye steak

1 Lobster – halved.

50g Unsalted softened butter (combined with laverbread to create laverbread butter)
Crispy onions

Fresh chives

2 Tbsp Mayonnaise

1 Tsp Cayenne pepper

Sea salt
1 Unwaxed lemon

Handful crispy seaweed

1 Jar Anchovies

Olive oil
Show more
Step 1:
Preheat your Gozney outdoor oven to around 400°C.
Step 2:
Season the steak with salt and oil. Oil a cast iron pan, and place in your Gozney Oven, allowing it to heat up. Remove and add in steak, return to your Dome or Roccbox.
Step 3:
Add the seaweed butter (create this by mixing the butter and dried seaweed together) and baste. Cook to your desired level. Remove and allow to rest.
Step 4:
Half a lobster, and place on a tray. Season with oil, salt and seaweed butter and place in oven until cooked through. Remove and allow to rest.
Step 5:
Open out a dough ball and cook in your Gozney Outdoor Oven. 
Step 6:
Take your flambedou, add the beef fat, light in Dome and pour over cooked flatbread.
Step 7:
Peel the lobster. Mix the with mayonnaise and lemon and cayenne pepper.
Step 8:
Slice the steak and add to the dough ball along with the lobster mix. Sprinkle with seaweed.
Step 9:
Slice and serve.
Time to fire up your Gozney Outdoor Pizza Oven and give this one a try! Don't forget to rate this recipe and share it with us on social media by using #GozneyKitchen!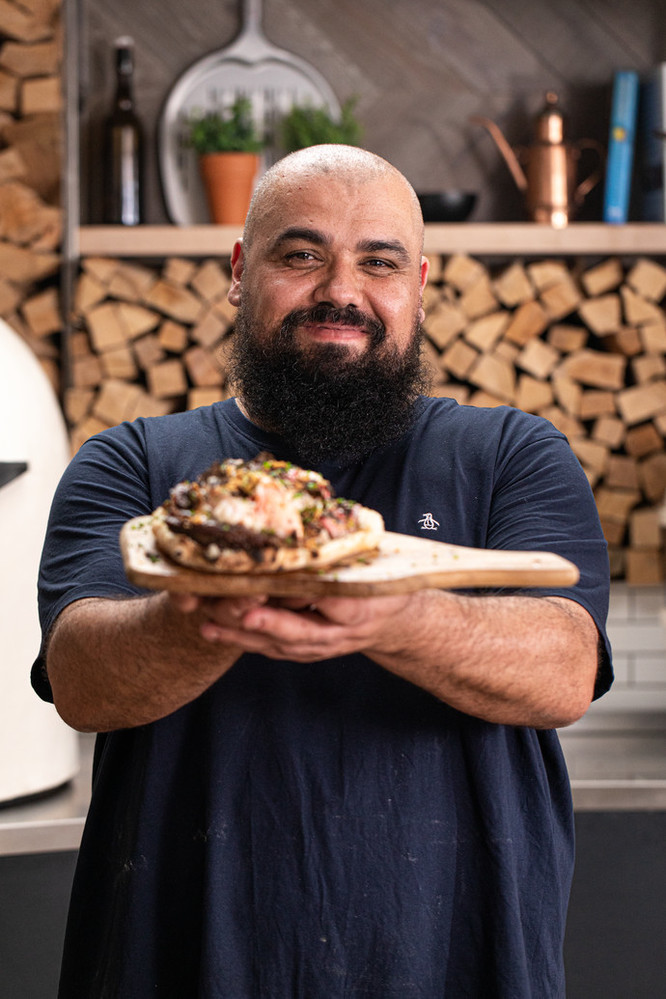 Recipe Contributor
Chris Roberts aka @flamebaster
Chris Roberts aka @flamebaster, is a legend of outdoor wood-fired cooking, proud North Walian and Gozney Ambassador. Growing up, Chris was inspired by his father to create incredible food and bring people together. Fronting his own TV show, Bwyd Epic Chris (Chris' Epic Food), Chris has become a national hit, and the big man's appetite for sizzling flavours and loveable personality is why we adore him so much at Gozney.