Roasted Scallops with Thai Chilli Dressing
Gozney Ambassador John Chantarasak (@englishhippy) is back with roasted scallops and a Thai chilli dressing, cooked in Dome (you can also use a Roccbox).This simple recipe smacks with the bold Thai flavours of chilli, fish sauce and lime juice, and takes minimal effort and time to create.  
Dome Bundle Link
Dome Bundle Link 1
Regular price €1,973.00€1,799.00
Pizza Server Link
Pizza Server Link 1
Regular price €45.00Prices from €36.00
Infrared Thermometer Link
Infrared Thermometer Link 1
Regular price €39.00€31.20
Ingredients
1 long red chilli, seeds removed and chopped
2 red bird's eye chilli, chopped
1 tbsp coriander root, cleaned and chopper (or coriander stem)
1 tbsp garlic, peeled and chopped
2 tbsp palm sugar (or brown sugar)
8 live scallops (large size)
Show more
Step 1:
 Heat your Gozney Oven to 300-350°C/572-662°F with wood or gas.
Step 2:
Make the red chilli dressing by pounding together the chillies, coriander root, garlic and salt with a mortar and pestle to form a smooth paste. Add in the lime juice, fish sauce and palm sugar, mixing everything together so the sugar has dissolved. Set aside for 15 minutes, allowing the flavours to mellow and marry together. It will taste spicy, sour and salty with a background sweetness. 
Step 3:
Clean the scallops. The best way to do this is to slide a table knife against the inside of the top (flat lid) shell, separating the scallop meat from the shell. This will allow you to fully open the shell. Scoop the scallop out from the bottom (round bowl) shell using a tablespoon to separate the scallop meat from the bowl shell. Wash the scallop in a bowl of cold water, removing and discarding the black digestive tract. Set the white scallop meat and orange coral (roe) meat aside. Clean the round bowl shell for presentation and repeat the process until all the scallops are cleaned. 
Step 4:
Cut the white scallop meat in half, leaving the orange coral whole. Return the scallops to the round bowl shells and set on a cast iron pan or heavy tray. Spoon 1 tablespoon of the red chilli dressing over each scallop then transfer to the Gozney Dome for 1-2 minutes until just cooked through. 
Step 5:
Remove the scallop shells from the Gozney Dome and spoon an additional 1 tablespoon of the red chilli dressing over each scallop. Serve immediately and be careful of the hot shells!  
Okay, it is time to turn your Gozney outdoor oven on and get to work! Why don't you share your work with us, just use the #gozneykitchen!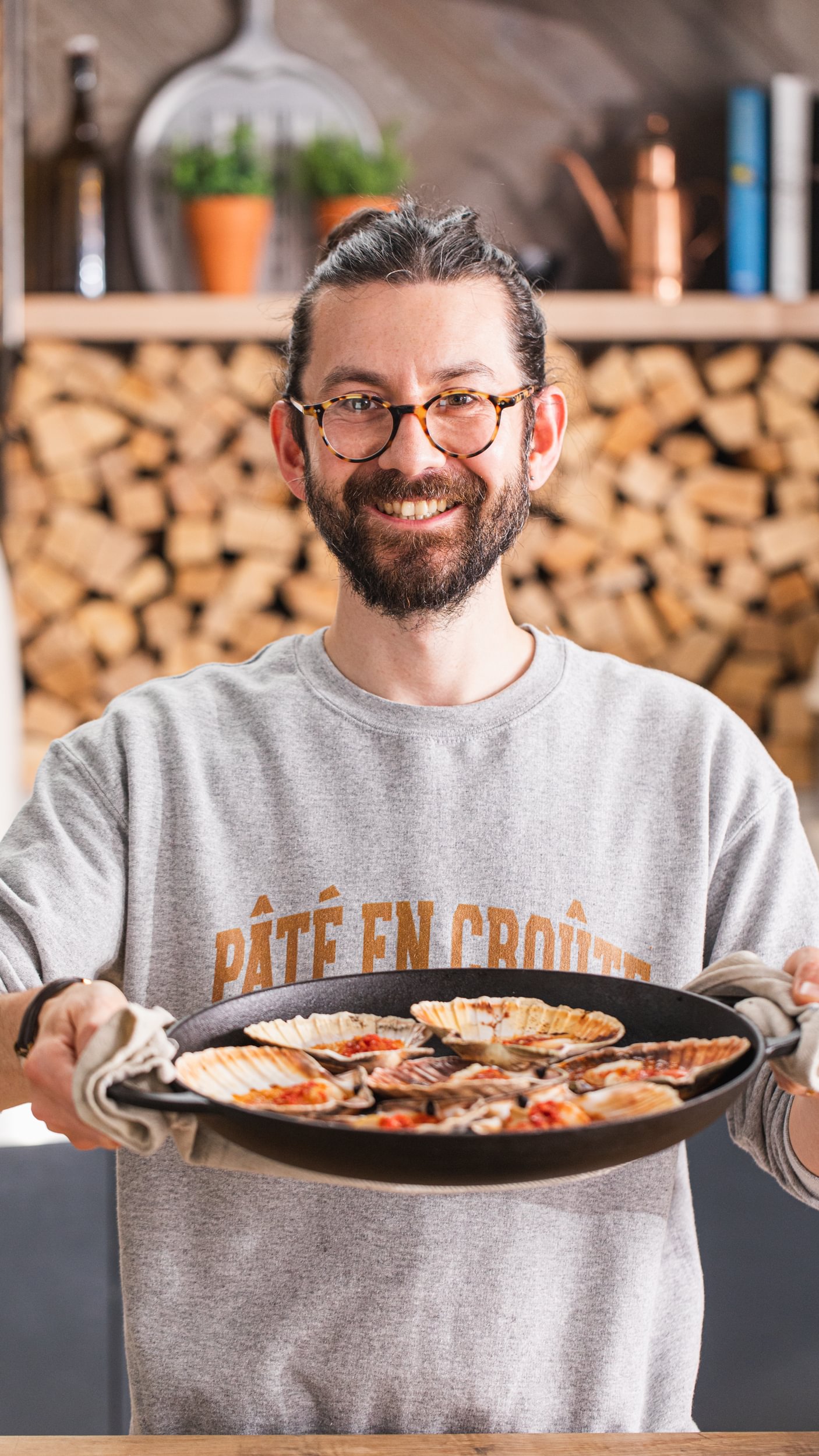 Recipe Contributor
@anglothai
John is half British and half Thai heritage, drawing influences from both cuisines when creating dishes for AngloThai, the restaurant he co-owns and runs with his wife Desiree.