Harissa Lamb
Harissa Lamb by @crossfiredcooking. The perfect dish to serve this Mother's Day. Cooked to slow-roasted perfection in Dome.  
Ingredients
Tray with grill aluminium foil 
1.5-2kg/53-70 Oz Lamb shoulder
3tbsp/ 1.5 fl Oz. vegetable oil
1.3kg/46 Oz tomatoes on the vine, halved
3 red peppers, sliced chunky
2 red onions, sliced chunky
300ml/ 10 fl Oz. chicken stock 
500ml/17 fl Oz. lamb stock
2tbsp/1.2 fl Oz. Maldon salt
½ tsp/ 0.1 fl Oz. ground cinnamon
1 tbsp/ 0.2 fl Oz. rosemary 
1 tsp / 0.2 fl Oz. garlic powder 
1 tsp . 0.2 fl Oz. coriander*
1 tsp / 0.2 fl Oz. fennel seeds*
*(toast these in a pan and crush in a pestle & mortar)
2 tbsp / 0.2 fl Oz. harissa 
1 tbsp / 0.6 fl Oz runny honey 
Show more
Step 1:
Create a wood-fire in Dome.  
Step 2:
Toast the cumin, coriander and fennel seeds in a pan. Once toasted, grind these up in a Pessel and Mortar, adding in the rest of the dry rub spices and some flaky sea salt.  
Step 3:
Place the onions, peppers, tomatoes, garlic and fennel into the tray.
Step 4:
Rub the oil over the lamb shoulder followed by the dry rub. 
Step 5:
Place the lamb shoulder on top of the vegetables along with some rosemary, and place into the Dome at around 300°C/575°F using the Dome Door. Check on the lamb every now and then, give it a turn, and replace the Dome Door.  
Step 6:
Once the lamb has achieved a nice colour, remove the tray, pour in the stock, cover with foil and return to the dome and cook until the meat is pulling away from the bone.  
Step 7:
For the glaze, stir all the ingredients together in a bowl. Glaze over lamb and return to the oven for a few minutes for the glaze to set.
Step 8:
Remove from the oven, pull the lamb and pour over some of the cooking juices.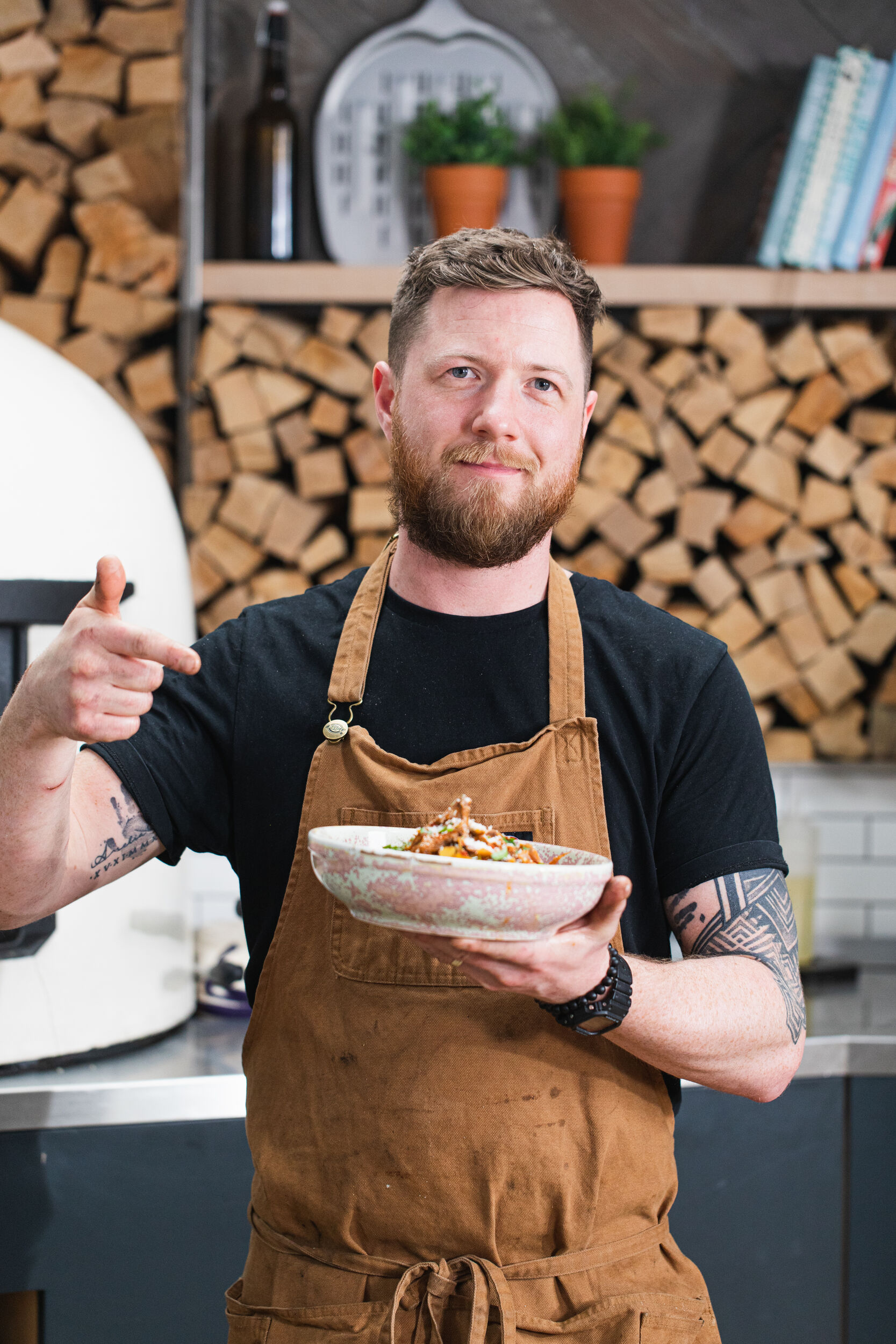 Recipe Contributor
Matt Cross
@crossfirecooking aka Matt Cross knows everything there is to know about cooking with fire. Creating mouth-watering meats and serving the masses from his pop-up, Matt has made a name for himself in the smoked BBQ and live-fire cooking world.