Garlic tiger prawns with peanut sauce
These juicy garlic prawns with a peanut dip by Philli Armitage-Mattin (@chefphilli) take moments to make and are bursting with flavour.
Fire up your Gozney Pizza Oven and give them a go with the recipe below.
Roccbox Link
Roccbox Link 1
Regular price €469.00€375.20
Dome Bundle Link
Dome Bundle Link 1
Regular price €1,973.00€1,799.00
Infrared Thermometer Link
Infrared Thermometer Link 1
Regular price €39.00€31.20
Ingredients
24 raw tiger prawns (preferably with the head and shell on)

Salt
4 tbsp olive oil

1 tsp cayenne pepper

4 garlic cloves, sliced

Parsley chopped

4 tbsp peanut butter smooth
2 limes juice

1 tbsp honey
Show more
Step 1:
To prep the prawns, cut a shallow slit along the back of each prawn and through the opening remove the vein.
Step 2:
Marinate the prawns in olive oil, cayenne pepper and a good pinch of salt and set aside for 20 mins.
Step 3:
Preheat your Gozney Dome or Roccbox with a cast iron pan to 200°C/392°F.
Step 4:
Add your prawn mix to the pan and roast in the oven for 5-7 mins.
Step 5:
Remove the prawns from the oven and add sliced garlic, then cook for a further 2-3 mins.
Step 6:
Mix together the peanut butter, lime juice, honey and ¼ tsp of salt to create your dipping sauce.
Step 7:
Toss the prawns in some chopped parsley and serve with the peanut dipping sauce.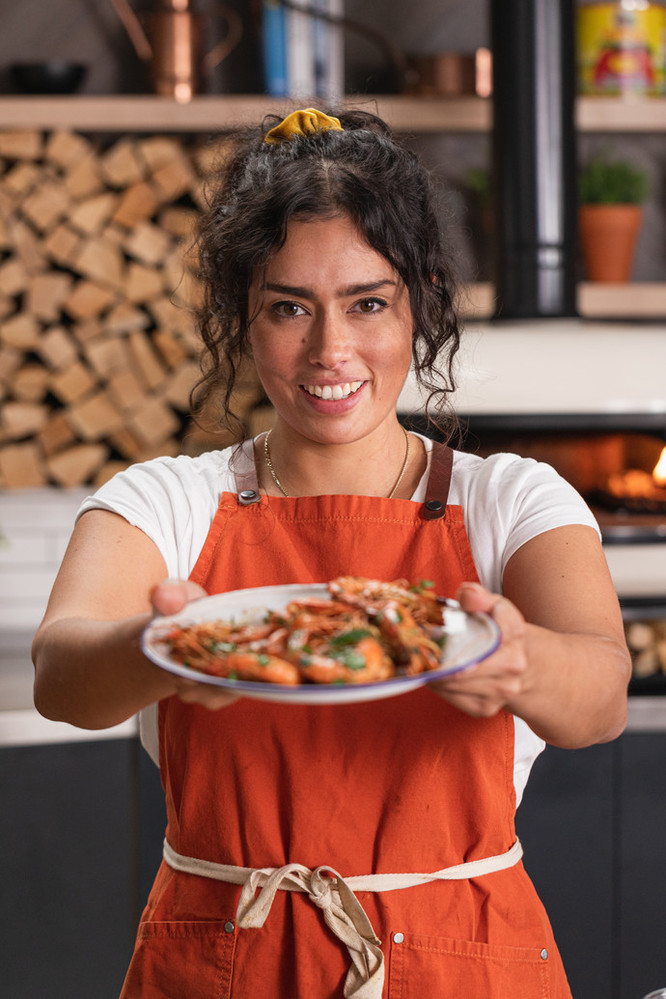 Recipe Contributor
Philli Armitage-Mattin
MasterChef finalist and author Philli's recipes are inspired by her research and travels, bringing you the most incredible Asian flavours cooked with live fire.