French Baguettes
A French boulangerie classic, by the master of everything dough @richardbertinet. These baguettes are a must-try for anyone looking to try bread in their Dome. You'll become obsessed.  
Ingredients
500g/17.6 Oz Strong bread flour
Show more
Step 1:
Add water to a mixing bowl and add in the flour and yeast. Mix on the slowest speed for 4 minutes and add the salt halfway through. 
Step 2:
Lift the dough out of the mixer and spin the dough over itself until it forms into a large ball. Leave the dough to rest for an hour, and then place the dough in the fridge overnight.
Step 3:
Line a tray with your lightly floured couche. Turn the dough out onto a floured work surface. Using your dough scraper, cut the dough into four pieces (about 215g/7.5 Oz each). Roll each piece into a ball by folding each edge in turn to the centre of the dough, pressing down with thumb or fingers, rotating as you go. Rest the balls for 5 minutes.
Step 4:
Take the first ball, turn it rounded side down, flatten with the heel of your hand into an oval shape. Fold one side of your flattened dough into the middle, use the heel of your hand to press it down to seal. Fold in half lengthways, seal the edges so you end up with a long log shape. Roll each baguette to shape and extend it to the length of your couche-lined baking tray.
Step 5:
Lay the baguettes on the couche, making a pleat in the towel between them to stop them touching. Cover with a baking cloth and leave for 45-60 minutes or until they have doubled in volume.  
Step 6:
Transfer the baguettes to a lightly floured wooden peel, flat-edged or upturned baking tray. Using a razor blade or sharp knife make 3 diagonal cuts across the baguettes, try to make the cut cleanly without dragging the dough.
Step 7:
Add water into the Dome Steam Injector just before putting the baguettes in the oven to make them crunchier. Add the baguettes into your Gozney Dome.
Step 8:
Bake at 240°C/464°F for 12-15 minutes until the crust is golden brown. Don't open the oven for the first 4-5 minutes so the crust has enough heat to form.
Step 9:
Serve and enjoy!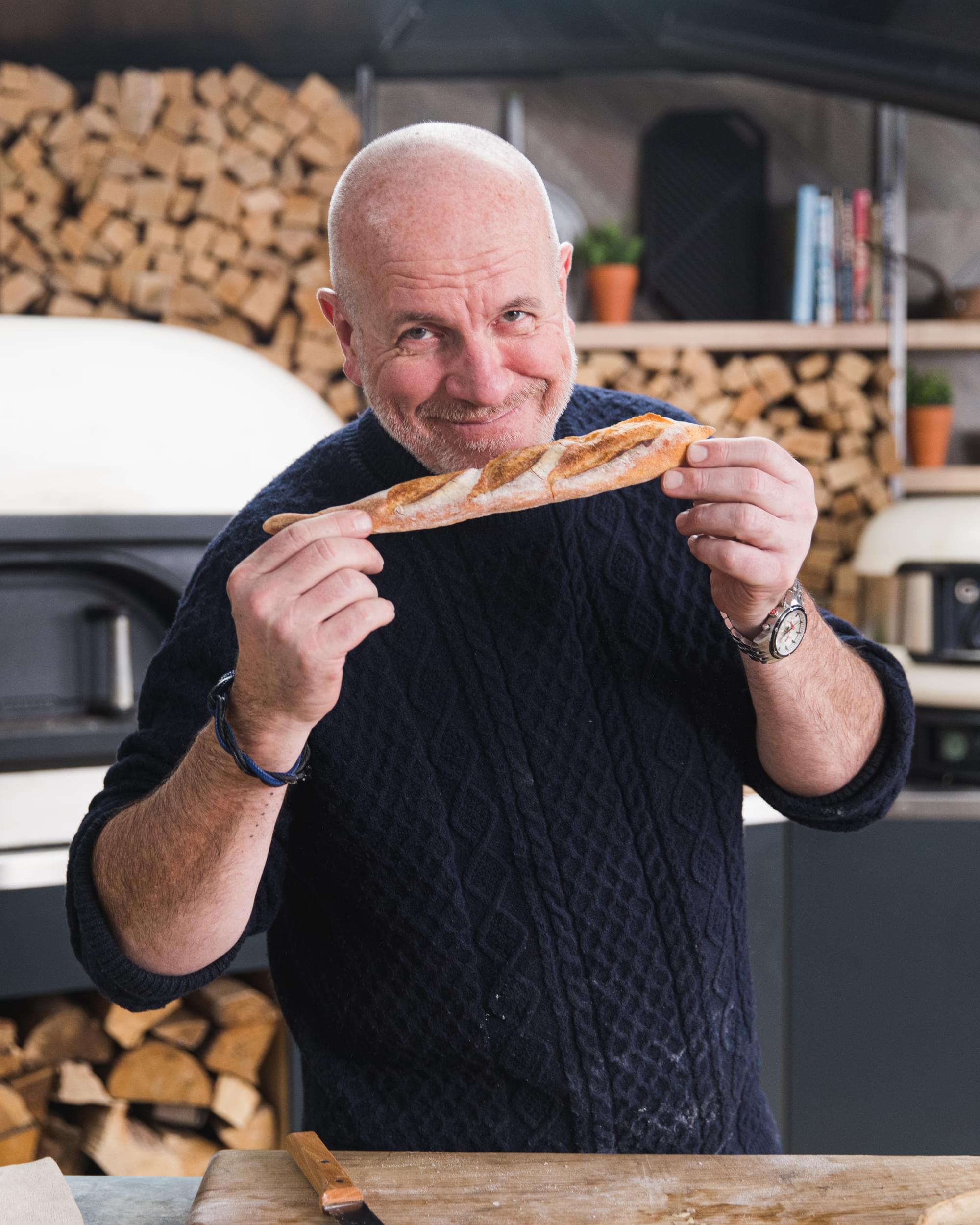 Recipe Contributor
Richard Bertinet
Born in France, Richard Bertinet is a renowned baker and bread expert who bakes and teaches in the English town of Bath.