Duck Fat Rosti
Ditch the bagel. Try this delicious duck-fat rosti created in Roccbox by our good friend @thombateman. The ultimate breakfast pick-me-up to make your morning. Or noon. Or night. Or whenever really. 
Roccbox Link
Roccbox Link 1
Regular price €469.00€375.20
Roccbox Turning Peel Link
Roccbox Turning Peel Link 1
Regular price €55.00€44.00
Infrared Thermometer Link
Infrared Thermometer Link 1
Regular price €39.00€31.20
Ingredients
Show more
Step 1:
Peel and grate the potato, squeeze out all the liquid. 
Step 2:
Melt the duck fat and mix 3/4 through the grated potato with some salt and pepper.  
Step 3:
 Add the remaining duck fat to a pan and heat in the Roccbox or Dome at 250°C/480°F, before pressing the potato into the pan and allowing it to form a crust on the bottom before flipping.
Step 4:
When the potato is cooked through and crispy on both sides, remove from the Roccbox. 
Step 5:
 Heat a little oil in a pan and add the bacon. Cook this in the Roccbox until nice and crispy.
Step 6:
Heat a little oil and butter in the pan. Remove from the heat and crack in the eggs. The residual heat should be enough to cook the egg, but if it needs a little more, flash it under the flame in the Roccbox. 
Step 7:
Mix the ketchup, honey and hot sauce to create a sweet spicy ketchup and serve with your breakfast. 
Time to fire up your Gozney Outdoor Oven and have some fun! Oh and don't forget to share your creation with us by using #Gozneykitchen!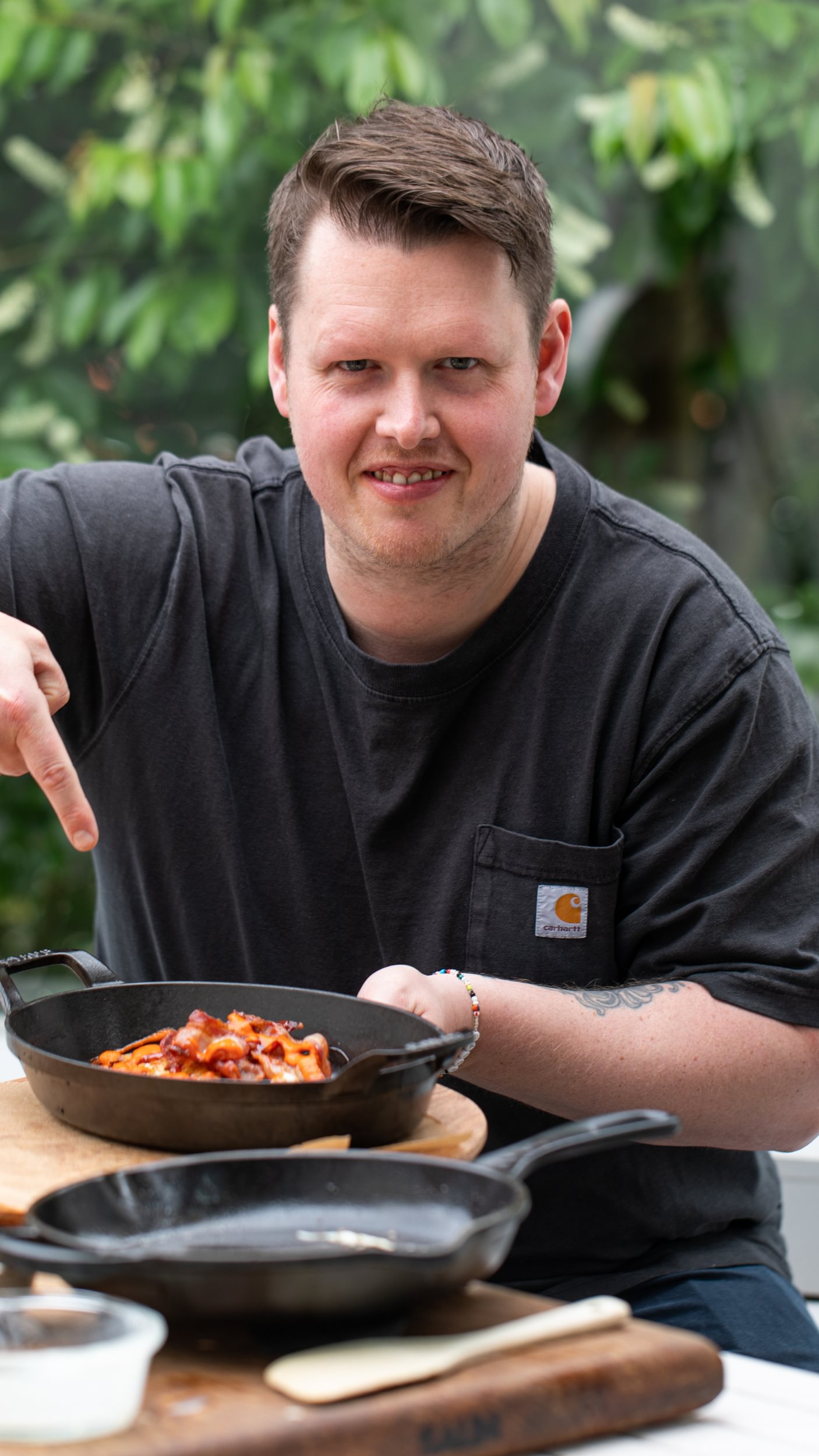 Recipe Contributor
Thom Bateman
Thom Bateman is the Chef Patron of the Flintlock at Cheddleton in Staffordshire which was recently awarded 2 AA rosettes. He's also a big hit on TikTok, sharing recipe inspiration to a loyal following of over 300,000 people.