Cheese Pizza Recipe
It's big, it's cheesy and it's an all-round classic – it's Mike Fitzick's (aka @pizza_jew) New York Cheese Pizza! Sometimes, simplicity is key, and this cheese pizza nails the basics. With a high-gluten flour that creates the perfect dough, this pizza has a flawlessly crispy base, and just the right balance of stringy mozzarella and tomato.
Ingredients
312g strong high gluten or bread flour

938g AP flour

40g salt

9g compressed yeast

26g sugar

770ml water cold + 30ml water cold - (64% hydration total)

Fresh mozzarella

Tomato base - San Marzano tomatoes, oregano and garlic

Parmesan

Basil
Show more
Step 1:
Add the yeast to the water and quick mix to combine. You can mix by hand but for better results use a mixer.
Step 2:
Add the flours and mix to combine for 5 to 7 minutes. Scrape down the mixer as you go. Rest for 5 mins.
Step 3:
Turn the mixer onto high and slowly add the 30ml of water (not all at once).
Step 4:
Next add the salt and sugar and mix for a further 5 to 7 mins.
Step 5:
Place the dough into an oiled bowl, cover and place in the fridge for an hour.
Step 6:
Ball the dough and place in the fridge for 24-48 hours.
Step 7:
Open up the dough and top with a tomato base, fresh mozzarella, parmesan, olive oil and basil.
Step 8:
Bake in your Gozney Dome or Roccbox at a temperature of 287°C, air temp of 398°C – on a low lame until golden brown. Slice and enjoy!
[step8]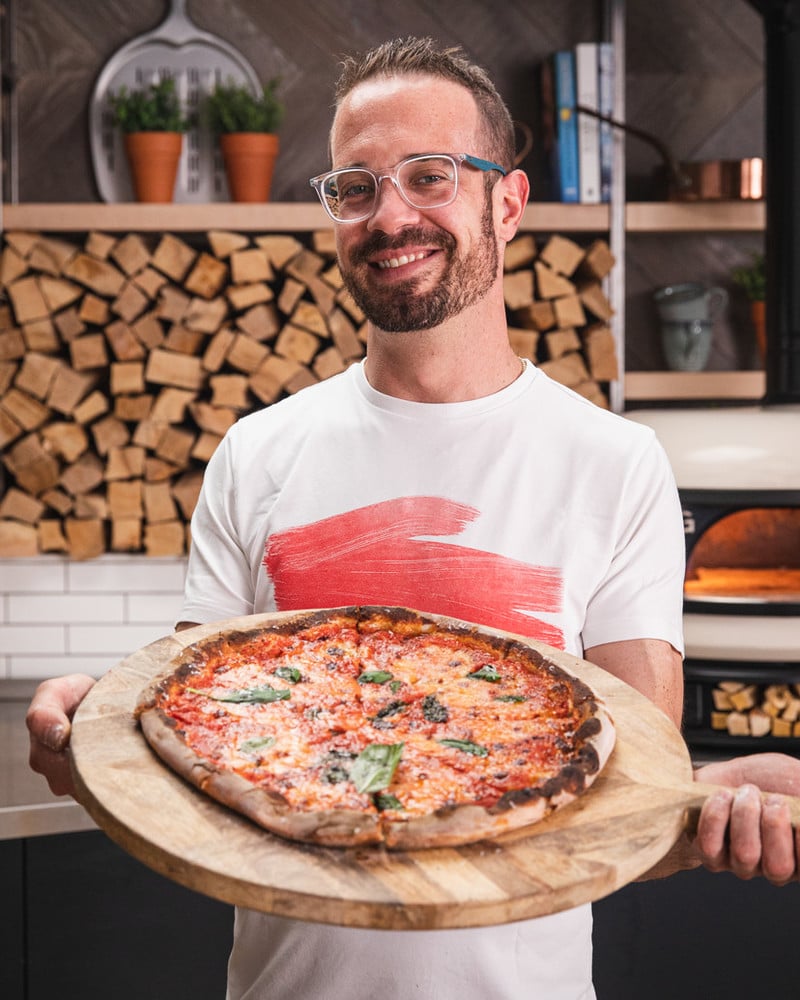 Recipe Contributor
Mike Fitzick's
Mike, who runs the show at Bakeria 1010 in New Jersey, is famous for his classic pizza recipes. Square, round, deep pan, Neapolitan – you name it, Mike does it!