Apple Galette with Pecan & Caramel
This apple, pecan and caramel galette cooked in Dome by @candicebrown is the sweet kick you need. The perfect dessert for a summer pizza party.
Ingredients
2 Bramley apples peeled, cored and thinly sliced

3 tbsp ground pecans (you can do this yourself)

0.5 tsp ground cinnamon
30ml spiced rum

30x30cm ready rolled puff pastry

25g chopped pecans

4 tbsp caramel (Homemade or bought)

1 egg - beaten
15g demerara sugar

Flour for dusting
Show more
Step 1:
Mix the sliced apples in a bowl with the ground pecans, cinnamon and rum.
Step 2:
Liberally dust the work top with flour and unroll your pastry. Roll out ever-so slightly thinner.
Step 3:
Tip the apple mixture onto the middle of the pastry and spread out, leaving about 2 inches around the edge. Make sure the apples are not too piled up as they won't cook.
Step 4:
Sprinkle the chopped pecans on top and then drizzle with the caramel sauce.
Step 5:
Cut the corners of the pastry off and simple fold the edges over all the way round so they just cover the first 1/2-1 inch of the filling, and it goes from a square to a round shape.
Step 6:
Brush the edges with beaten egg and sprinkle with demerara sugar.
Step 7:
Heat the Dome to 250-300°C. Using the peel, place the galette into the Dome, keeping to the side and open front. Every couple of minutes gently turn the galette to stop the edges from catching too much.
Step 8:
Make sure the apples and caramel are bubbling and the bottom is nice and crisp. Remove from the oven and serve hot with ice cream or vanilla custard.
Okay, it is time to turn your Gozney outdoor oven on and get to work! Why don't you share your delicious Galette with us, just use the #gozneykitchen!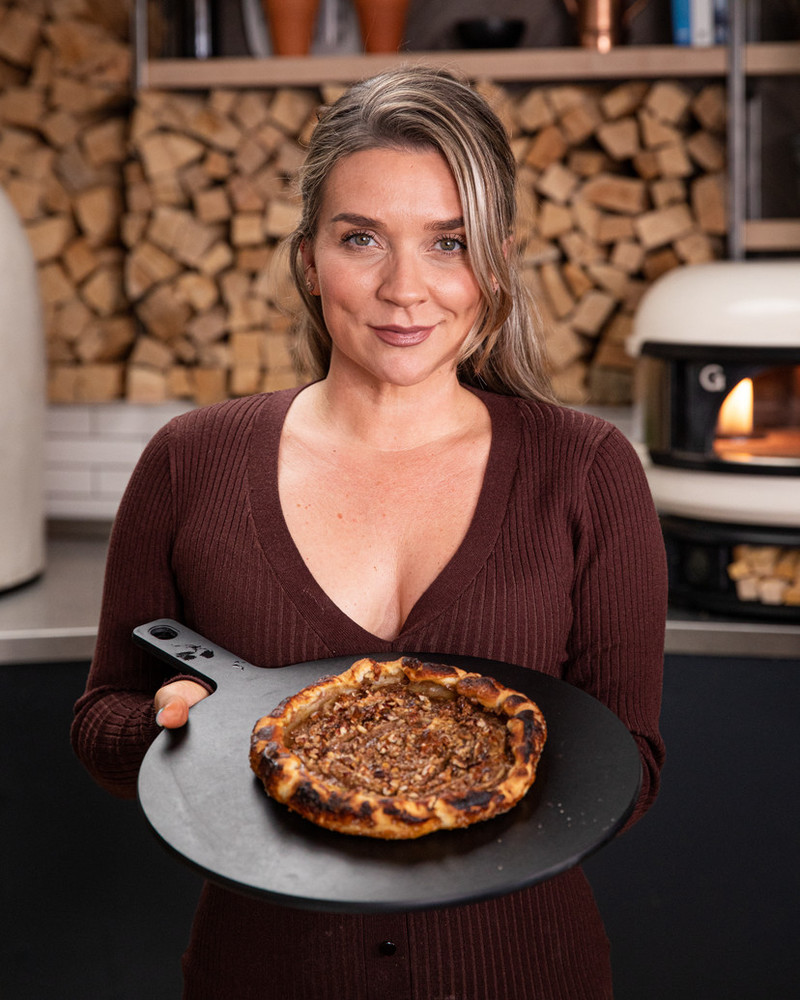 Recipe Contributor
Candice Brown
Candice Brown (@candicebrown) is a Great British Bake Off Winner, successful pub owner, author, mental health campaigner, and cook. Yep, she does it all. Candice describes cooking as a process she loves from start to finish, creating hearty, home-cooked recipes, especially in her new book 'Happy Cooking'.