Bananas with Chocolate and Caramel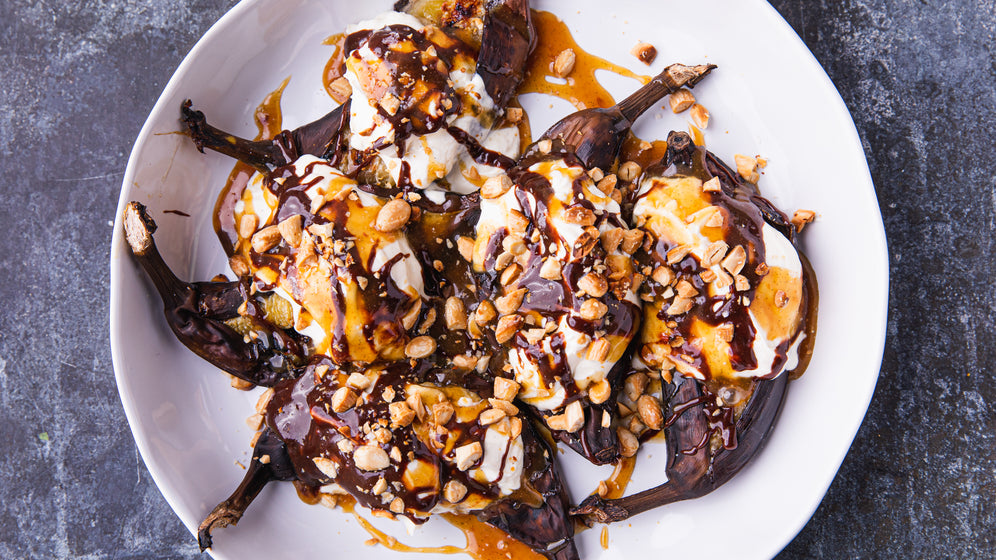 Roasted bananas with tahini fudge sauce and rum caramel by @ixtabelfrage cooked in Roccbox.  
Whether you're cooking for friends and family or just treating yourself (it's called self-care), this simple recipe is sweet, boozy and indulgent - everything you need in a dessert.
Roccbox Link
Roccbox Link 1
Regular price €469.00€375.20
Infrared Thermometer Link
Infrared Thermometer Link 1
Regular price €39.00€31.20
Pizza Server Link
Pizza Server Link 1
Regular price €45.00Prices from €36.00
Ingredients
6 very ripe bananas (with plenty of brown spots), skin on

80g roasted and salted almonds, roughly chopped
300g Oz double cream

100g Greek yoghurt
140g maple syrup

70g double cream

25g white miso paste
1 tsp vanilla bean paste

1½ tbsp spiced rum
90g tahini (mix very well before using, to combine the solids and fat)

75g maple syrup
2 tbsp cocoa powder

1½ tsp soy sauce or tamari

½ tsp vanilla bean paste
Show more
Step 1:
Add the cream, yoghurt and vanilla to a medium bowl and whip until you get medium peaks. Refrigerate until ready to serve. 
Step 2:
For the caramel, add all the ingredients to a medium saucepan and place on a medium heat. Whisk well to incorporate the miso and cook for 6 mins, stirring often; the mixture should bubble away and thicken to the consistency of butterscotch sauce. Transfer to a bowl and stir in the rum. 
Step 3:
For the fudge sauce, add all the ingredients to a medium bowl and whisk until thickened and completely smooth. Add a splash of water if needed- the consistency should be thick but pourable. 
Step 4:
Preheat your Gozney Dome or Roccbox 250°C.  
Step 5:
Cut a slit along the top of the bananas and squeeze them slightly open. Place in a large oven proof tray. Drizzle a little maple syrup and sprinkle a little salt inside each banana. 
Step 6:
Bake the bananas until the skins have blackened completely and the flesh is nicely caramelised and very soft. Turn the tray every now and then so the bananas cook evenly. This should take about 15-20 mins but will depend on the heat of your Gozney oven. 
Step 7:
Leave to cool for a few minutes, then top with the cream, followed by the caramel, fudge sauce and almonds. Sprinkle with flaked salt and serve.
.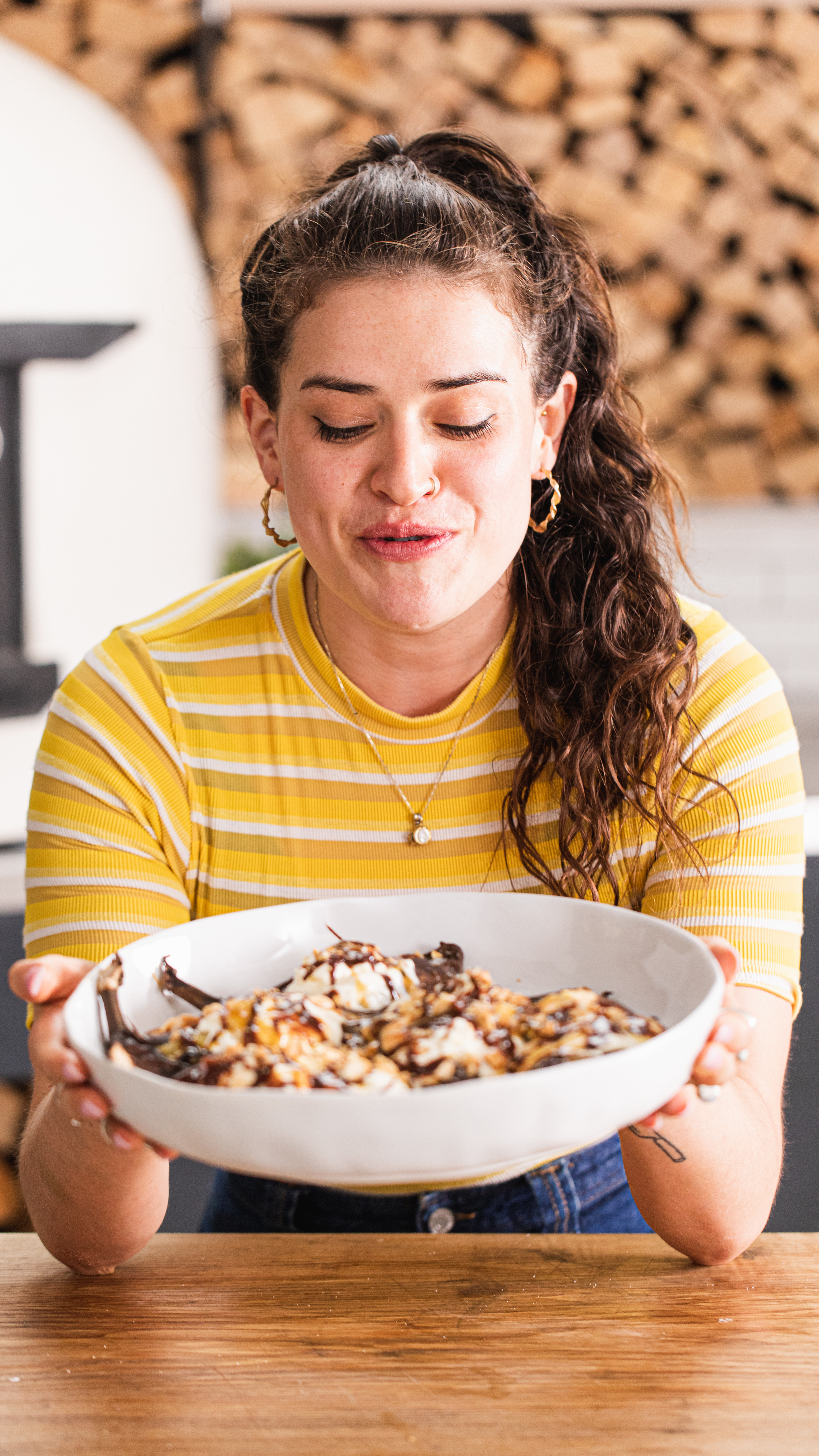 Recipe Contributor
Ixta Belfrage
Ixta Belfrage is an incredible cook, food writer and author. Her style of cooking draws inspiration from three countries she grew up travelling to, eating in and obsessing over - Italy, Brazil and Mexico. Ixta is the co-author of NYT best-selling FLAVOUR with Yotam Ottolenghi. Her first solo cookbook, MEZCLA is out in July.